The facilities are located in the Catalonian municipality of Vallfogona de Balaguer. CycleØ plans to have 20 biomethane plants underway or operating in Spain by the end of 2024. These facilities represent a total investment of €50 million and will produce 240 GWh of biomethane annually.
Key facts:
The facility will help Granja La Carbona reduce nitrate pollution, minimise transport costs related to waste management, increase revenue and reduce greenhouse gas emissions.
Ammonia stripping technology will produce ammonium nitrate and sulfate from the liquid fraction of the waste byproduct of the biomethane production process. This will reduce the need for carbon-intensive mineral fertilisers on the farm.
CycleØ will have a total of 20 plants underway or operating in Spain by the end of 2024. This represents a €50 million investment that will produce 240 GWh of biomethane annually.
[Barcelona and London, 14 September, 2023] For Domingo Serret of Granja La Carbona, like all Spanish livestock farmers, manure management is a big challenge.
But, through a partnership with biomethane producer CycleØ, Granja La Carbona has found a solution that has turned this challenge into an opportunity. The farm is home to the first biomethane facility in Spain that integrates ammonia stripping technology, which transforms manure into sustainable fertiliser and represents a clear example of a circular economy in action.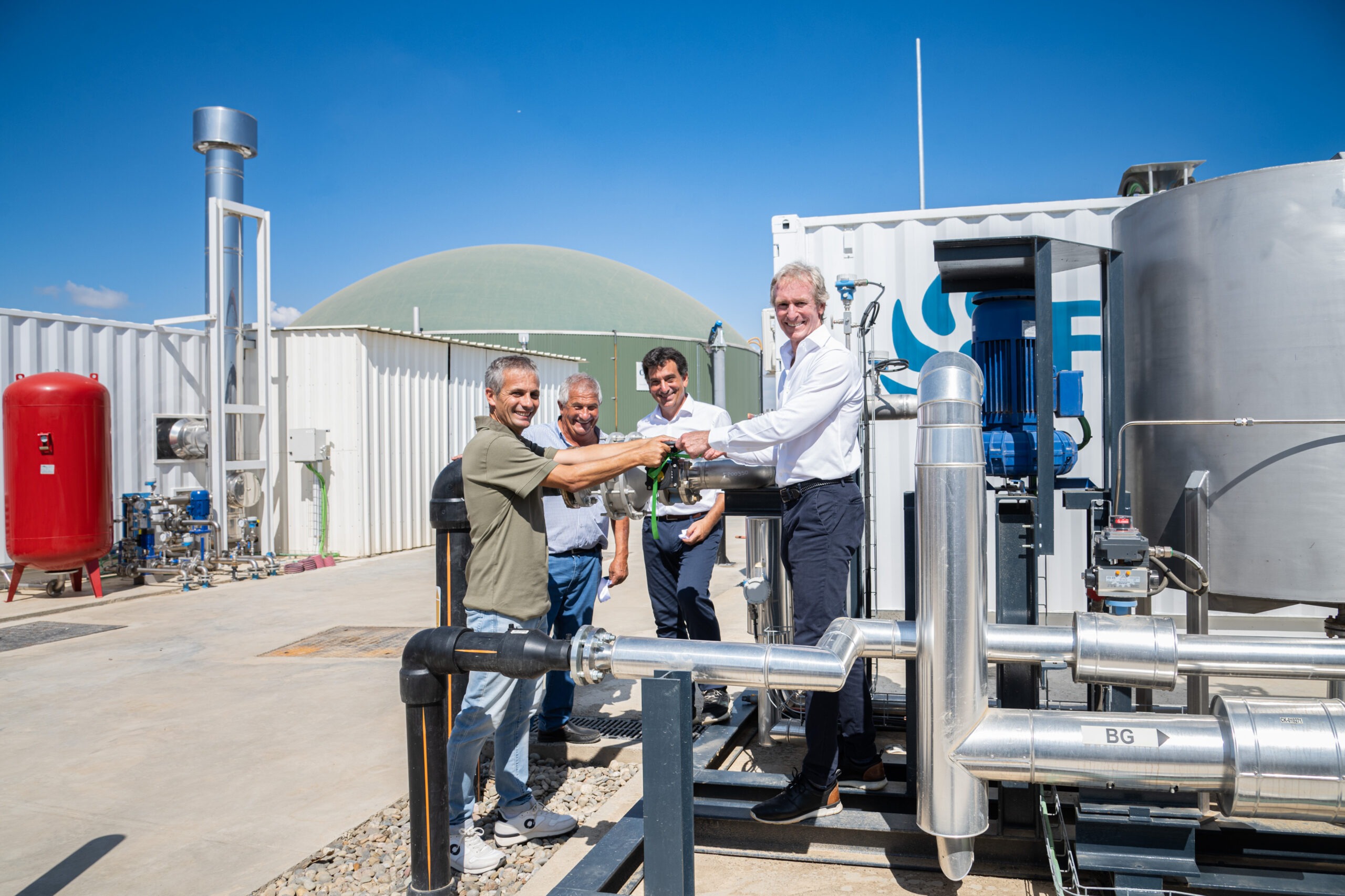 The second in a series of CycleØ's investments in Spain
This small-scale plant joins another facility in Vilanant, Catalonia, to become CycleØ's second operational installation in Spain and the company's first fully developed, owned, built and operated facility in the country.
CycleØ invested €2.5 million in the development and construction of the facility in Granja La Carbona, which has a maximum production capacity of 15,000 MWh per year. That's enough power to reduce the equivalent of 9,000 tonnes of CO2 emissions annually.
CycleØ's industrial subsidiary, FNX, developed, designed, and built the biogas upgrading technology used in this plant. This includes proprietary, optimised membrane-based cleaning and biogas compression equipment that allow the plant to produce Bio-CNG or Bio-LNG with 99% purity.
"We're very excited about this project," said Jordi Berengué Piqué, Managing Director of FNX. "This is an excellent example of how our modular biogas upgrading technology can bring numerous benefits to the agri-food sector, reducing greenhouse gas emissions and developing circular economy models."
The project is the second in a series of investments the company is making in Catalonia and Spain.  In the coming months, CycleØ will complete its third Spanish facility, located on another livestock farm near Granja La Carbona. The company has invested €2 million in the plant, which will produce 10 GWh of biomethane per year, equivalent to the annual consumption of 1,250 households.
Bringing biomethane development to rural areas
Spain has the potential to generate over 163 TWh of biomethane power. But much of the feedstock needed to realise that potential is located in rural areas where it's hard to access.
As a response, CycleØ is focused on developing, building, and operating its own small- to medium-scale biomethane plants. The facilities use proprietary modular upgrading and liquefaction units designed and built by FNX that enable access to valuable feedstock sources.
"The biomethane we produce can be injected into existing gas grids, and the Bio-CNG or Bio-LNG can be used as fuel for heavy transport," explained CycleØ CEO Laurence Molke. "Through projects like this one, we're investing in Spain's emerging bioenergy market and helping meet national decarbonisation targets—while working with farmers to reduce costs and increase sustainability."
Spain's first plant to integrate ammonium stripping technology
The project at Granja La Carbona is Spain's first biomethane project to incorporate ammonia stripping. The process transforms ammoniacal nitrogen contained in the liquid fraction of the digestate byproduct of anaerobic digestion into a sustainable fertiliser suitable for use on all the farm's crops.
"This biomethane facility with ammonia stripping is a significant step forward for our operation," said Domingo Serret. "Not only will it reduce our waste management costs, but it will also provide us with valuable organic fertiliser, reduce our carbon footprint and make our operations more sustainable."
"Projects like these are contributing to our mission to help the world reach net-zero emissions by 2050 and meet the RePower EU target of 35 million bcm of biomethane by 2030," Molke said. "We're also excited to help meet Spain´s energy transition goals."
About CycleØ
 CycleØ is a European biomethane platform. The company is an integrated producer of compressed and liquefied biomethane, capturing methane emissions from the agri-food sector and turning it into renewable natural gas used to decarbonise the transport industry and gas grid. CycleØ builds, owns, and operates small to medium-scale, decentralised biomethane projects. Through its subsidiary FNX, located in the Spanish Basque Country, CycleØ possesses market-leading upgrading and liquefaction technology.
 To learn more about CycleØ, visit www.cycle0.com
 About FNX
FNX specialises in the design, manufacturing, installation and operation of biogas upgrading and biomethane liquefaction equipment, offering a renewable alternative to natural gas. FNX brings its fifteen years of engineering expertise to the CycleØ Group, a leading European biomethane platform, and has developed market-leading modular biogas upgrading and liquefaction technologies.
 To learn more about FNX, visit fnxlng.com