Delivering biomethane from agri-food waste with proprietary biogas upgrading and RNG liquefaction technology
Our small-to-medium-scale biomethane plants use proprietary upgrading and liquefaction technologies to deliver more efficiency than traditional large-scale facilities. Engineered by our Spanish manufacturing subsidiary, FNX, our modular, skid-mounted plants are simple to install in even the most remote sites, allowing agri-food producers to unlock value from waste and contribute to the circular economy.

Modular, membrane-based biogas upgrading system
Our biogas to biomethane upgrading technologies feature two modules:
Module 1: Pre-treatment
Biogas is fed into a pre-treatment container.
Biogas is cooled to remove excess water.
H2S is removed using carbon filters.
Volatile organic compounds are filtered.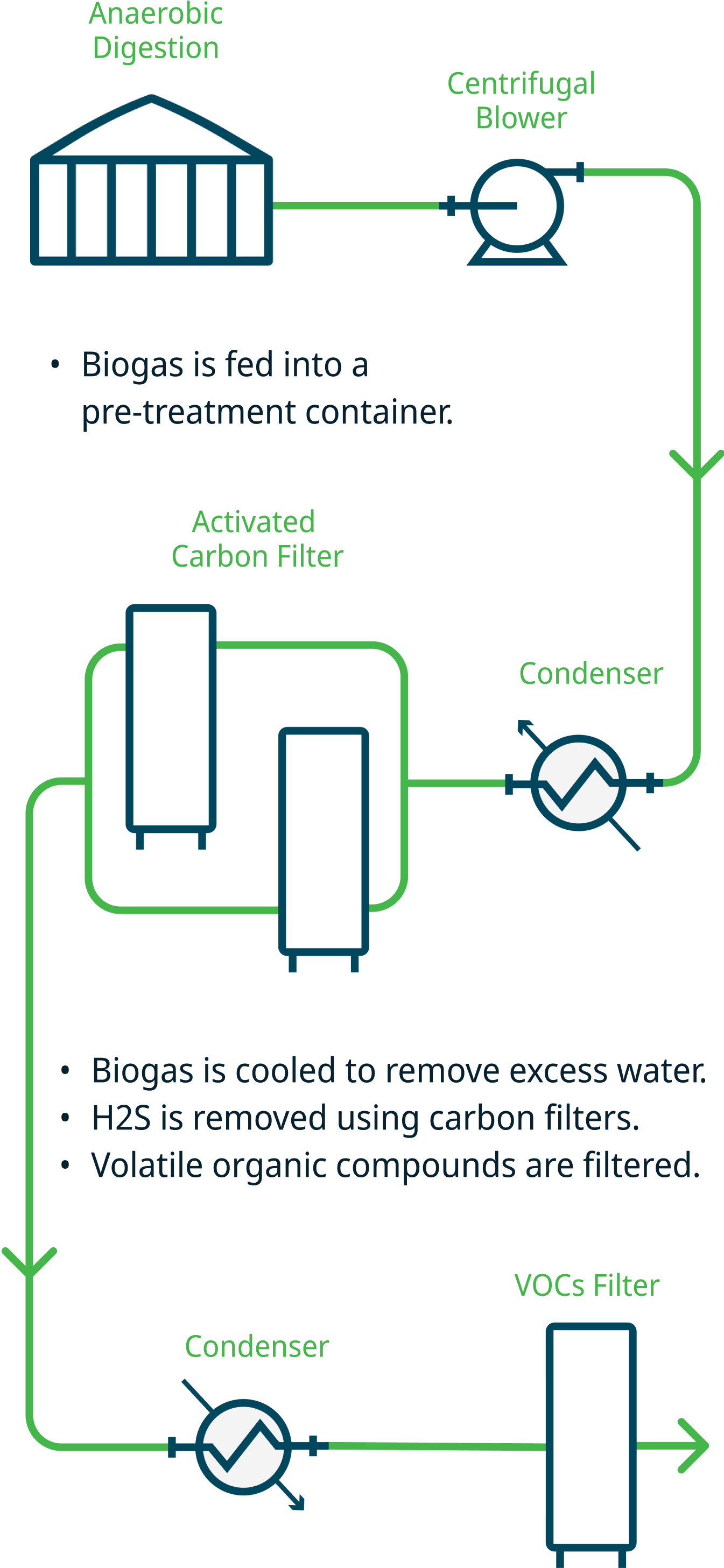 Module 2: Compression and CO2 Removal
Pressure is increased via a screw compressor.
Gas is cooled with a condenser to remove any H2O.
Methane is separated from CO2 by membrane filters.
Biomethane is injected into the grid or used for vehicle fuel.*
Plug-and-play Bio-LNG liquefaction plants
Plug-and-play Bio-LNG liquefaction plants
Our modular, small-scale liquefaction plants are designed to be easily transported and installed in remote locations.
Skid mounted, fully finished designs for plug-and-play field installation
Simple transportation to any site via standard ISO shipping containers
Units include all cabling and piping with no need for pipe racks, cable trays or soil pits
Fully assembled and tested in-house by our manufacturing subsidiary, FNX
Self-contained nitrogen closed-loop refrigeration systems reduces costs
Grid-connected or self-generated power options allow for installation anywhere
FNX: bringing 10+ years of engineering expertise
FNX: bringing 10+ years of engineering expertise
Our biomethane upgrading and liquefaction technologies are designed, developed, built and tested on-site by FNX, our manufacturing subsidiary located in the Spanish Basque country.
With over 10 years of experience building reliable, scalable systems, FNX provides the know-how throughout the entire biogas production chain.
Technology that's unlocking the biomethane value chain
Accessing stranded feedstock, often in remote areas, and economically producing biomethane, takes a comprehensive, granular skillset that we bring to the table. Our technical solutions, ability to develop and efficiently build plants and strong engineering team are what gives us a critical edge at CycleØ.
Ready to learn more about our technology?
We currently have 18 biomethane facilities in operation or different stages of development in Europe and Latin America. Thanks to financial backing from
Ara Partners
, a leading decarbonisation private equity firm, we have the capital to make any biomethane project a reality.